Get yourself a book, darling

I often get inquiries from what the internet has termed "baby witches." As time goes on, I'm less enamored with that term, but people instantly know what you're talking about. However, I am likely to use Novice Practitioner, or Emerging Witch or some such instead. Regardless of the term used, those beginning on their magical path ask me about how to learn. Without hesitation, I tell them to begin to grow their Witch Library. Read everything you can get your hands on. Use what speaks to you; discard what you don't vibe with naturally; and embody the things you love. 
When I was first starting on my path, circa 1979ish, hunting down books on living a magical life were harder to find than they are now in this time of "new age" shelves at commercial book stores. Calling yourself a Witch in public was not as accepted as it is today or even necessarily safe. For many of us, we still work under a glamour of "normalcy." Finding books became a bit easier with the strengthening of Weiser Books, Llewellyn, or even the now defunct Walking Stick Press, and of course that behemoth Amazon, and the surge of independent publishing. My Kindle was my mobile Witch library whilst living the traveling life and holds dozens of Witchy texts like Witch: Unleashed. Untamed. Unapologetic by Lisa Lister, Intuitive Witchcraft by Astrea Taylor, and Waking the Witch by Pam Grossman. But back when I was a Wtichlet, I had to hunt libraries, and used book stores, couching it in terms of Neo Spiritualism or Occult Curiosity. One particular Saturday, all dressed in black with matching gothy eyeliner and obnoxious pentagram earrings, the clerk in a long-gone secondhand book seller in the heart of Detroit pointed me to the very back room without a word. I still giggle about that.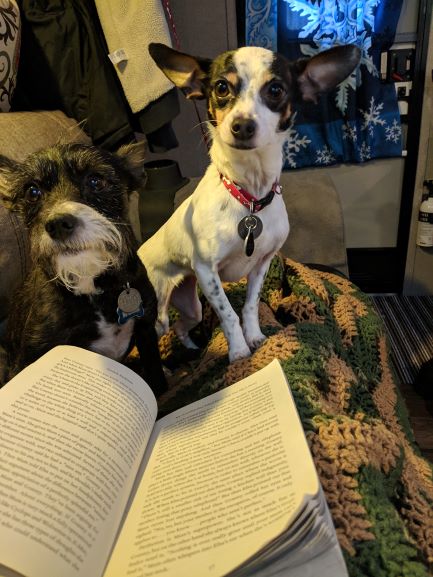 One of the first books I read on magic was Witch Amongst Us by Lois Bourne, who entertained letters from a young girl living in the East side of Detroit. This led me to The Spiral Dance by Starhawk, whose continuing bibliography populates my bookshelves, both physically and digitally. Next I found myself reading Positive Magic by Marion Weinstein, which I often re-read when things looked dark. Yes, I re-read it in 2020. The point is I systematically found myself reading everything I could get my hands on — books on crystals and spells and on and on.
When I lived in Europe (1993-1996), I was able to get many more volumes on everything from palmistry to tea-leaf reading. I spent time in the woods or on mountaintops with established covens and learned more from them. It was then that I learned about dream interpretation and Runes and deepened my connection to those things as well as herbalism and alchemy. And although I encountered people along my journey that shared and gifted me some of their knowledge the bulk of it has been by self-education through reading and practicing.
You can explore everything and really dive deep into the callings that speak to you best via books, whether it be Moon Magic, Solar Holy Days, or Divination, and more. It's out there to explore. My tactic was to acquire everything I could and read everything I could. In doing so, I recognized that things like Wicca didn't appeal to me, and that being in a coven or circle wasn't always good for my energy. I felt more empowered and aligned with the cosmic energies by doing my craft as a solitary.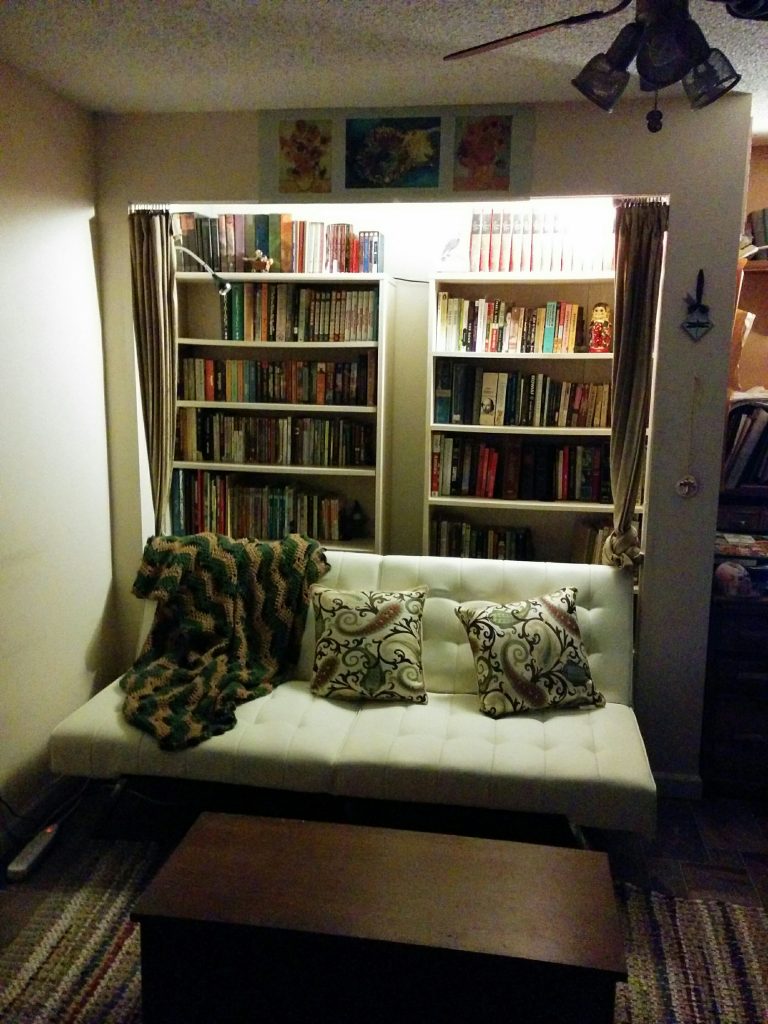 I am currently in the midst of rebuilding my Witch library, having gifted many of my books in the great purge of 2017, including the first volumes that nudged me along my path, as we readied for a life of nomadic existence. Thankfully, I had my book of shadows throughout the years and those records let me know where I need to refresh my Witchcraft texts. As I rebuild this library, I plan to post reviews of books I read that would appeal to both early and experienced Mystics, Witches, Healers, Lightworkers, Energy Workers, or any of the other names that Witches call themselves. I hope to do the first review here next week. So look for a continuation of this Witches Library discussion to come.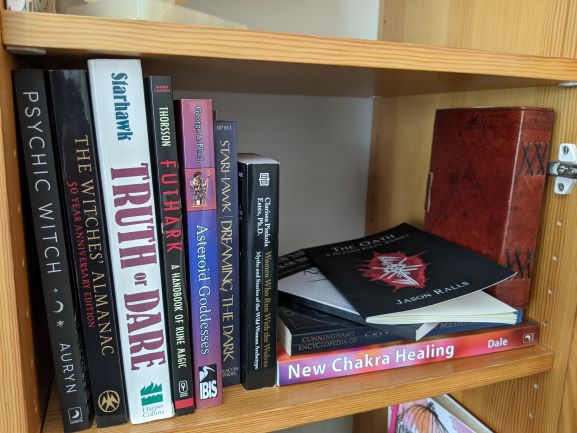 If you are just beginning on your magical path, may I suggest you meditate and ask Source to guide you to what book(s) would serve you best and allow you to be your truest self and live your best life. You could also just go into a book store and head over to their spirituality shelf and find something that makes you pick it up.
Like many Witches having a library, a garden, and some familiars makes life super magical. And they all seem to go hand in hand, like a Triple Goddess Venn Diagram. What books did you start with on your path? What books are you looking for? Where is your favorite place to read? Do this Writing Witch a solid and tell me what book has informed your path and clarified things for you. If you, like me, had to sell all your books, which ones would you keep? If you're re-building a library, like me, which ones are must haves? Let's talk books, Witches.