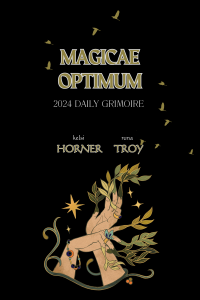 A New Way To Optimize Your Magic
Two West-Coast Witches Collaborate on New Magical Life Tools
Bellingham, WA. – This autumn's season of the Witch may just be more organized. A new foundational tool is premiering for all those who practice witchcraft, love astrology, Tarot, and love to celebrate lunar and solar observances.
The Magicae Optimum Daily Grimoire (MODG) is an all-in-one Book of Shadows, astro-weather guide, as well as a tracker for your dreams, intentions, and your everyday Magic. Walking in the Craft is all about being our truest selves and living our best lives. We get there day-by-day. Improving, one step at a time. One day at a time. Present in the moment, and eye on the details.
Runa Troy along with fellow Witch and co-creator, Kelsi Horner, contend that the MODG gives its users a way to optimize their time and energy (and thereby their resources and energy).
This Grimoire gives each day its due with a big focus on Magic, including the day's astrology featuring the degrees of the transit. Every month has an overview detailing the moon cycles and zodiac transits. Throughout the planner there are art, quotes, and witchy knowledge and tips to perhaps teach, inspire, and entertain.
"I got tired of carrying – and often losing – multiple planners, astrology calendars, notebooks, and journals to keep me on track," Horner said. "Runa and I found ourselves discussing wanting something different, a new system to incorporate keeping our mundane and magical lives aligned, with a focus on the Magic."
"Next thing I know we're working on creating just that and Magicae Optimum was born," Troy said.
It is available for pre-order on September 16, 2023.
Special collections to complement the MODG are also available at MagicaeOptimum.com. It can also be ordered through DarlingWeirdos.com.