Well Met, Visitor. Thank you for stopping by my little cottage in the forest of the internet. As you enter this space, please embrace a positive vibe and energy. I will give you the same. This space is dedicated to helping share what I've learned and give space to supporting a magical life, both mine and yours.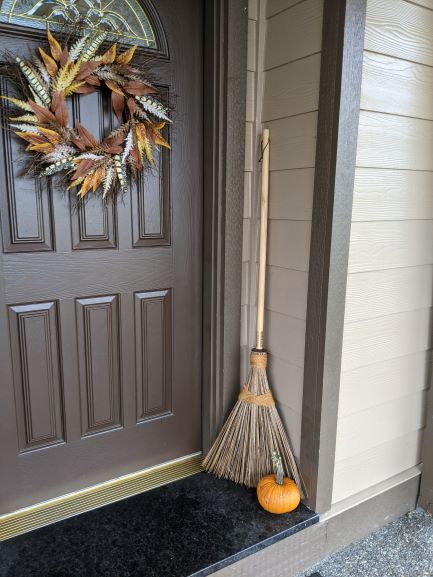 If you're in this section you're trying to find out more about who Runa Troy is. I am a long-time solitary Witch. I have been practicing the Craft for more than 40 years. I've explored just about every aspect of it to some degree, like many Witches, and held on to that which brought me to my truest self and best life. Primarily you will find me doing word magic (writing), rune casting, hedge riding, dream interpretation, herbalism, and lots of kitchen witchery. Don't know what these things are? Explore my site here more to find out, or come again soon, there will likely be more posts about something I just mentioned.
My days are filled with caring & healing the earth, myself, and those I care about. This is manifested physically by caring for the little piece of property I've been blessed to have, creating a bit of a Covenstead of it, and caring for its inhabitants, which primarily includes my husband, which most know as The Viking, and my two little familiars, Shadow & Light (aka #GrannyShadow & #MsSnickleFritz), a trio of geese, a brace of ducks, and a small flock of chickens. We are currently transforming Villa Westwyk into a Food Forest. The Viking and I are pushing to live as sustainably on the land as possible. I will likely blog about the Magic of this transformation here. So if you're interested in that, be sure to subscribe and visit here often for all the updates.
Out of my little Covenstead, Villa Westwyk, I do what I call MIDGARDening Witchery, providing Magical Services & Goods via my Etsy shop, where I offer Rune Casting, Dream Interpretations, and all sorts of Goods for Magical People. In short, I am the chief curator and handcrafter of everyday magical items and services. I also find magical vintage items and offer them in the shop as well.
Each week on Wednesdays at 10:30 a.m. (Pacific Time) I do a little Instagram Live called "Solitary Shenanigans" where I feature something special from my market, cast some runes, and talk about all things witchy. I would welcome you to join me for a little Witchy Wednesday Coffee Klatch with this Crone. Grab your favorite mug, cup, or stein filled with your favorite, invite a friend, and let's have a little fun. (As of Feb. 2022, this feature is on hold.)
If you have questions about anything in my little Witchy realm, please feel free to email me at Runa(at)RunaTroy(dot)com. 😉
I'm here to be a resource for those wild women and men who are on the path of the Craft, seeking knowledge, healing, and guidance that this Crone can provide. You may have come here as a stranger, but hopefully you will depart a friend.
Thanks for visiting. Blessed Be.
REMEMBER: Intuitive Readings (Dream Interpretation, Rune Casting, etc.) should not be used as a substitute for medical, psychological, psychiatric, professional, legal, or financial advice or care. I am not qualified to provide legal, financial, or any medical advice and this advice should be sought from a suitable professional. Dream readings and interpretations are for entertainment purposes only. The user is responsible for his/her own life choices and decisions. When you purchase my readings you are confirming your age is 18 years or older.