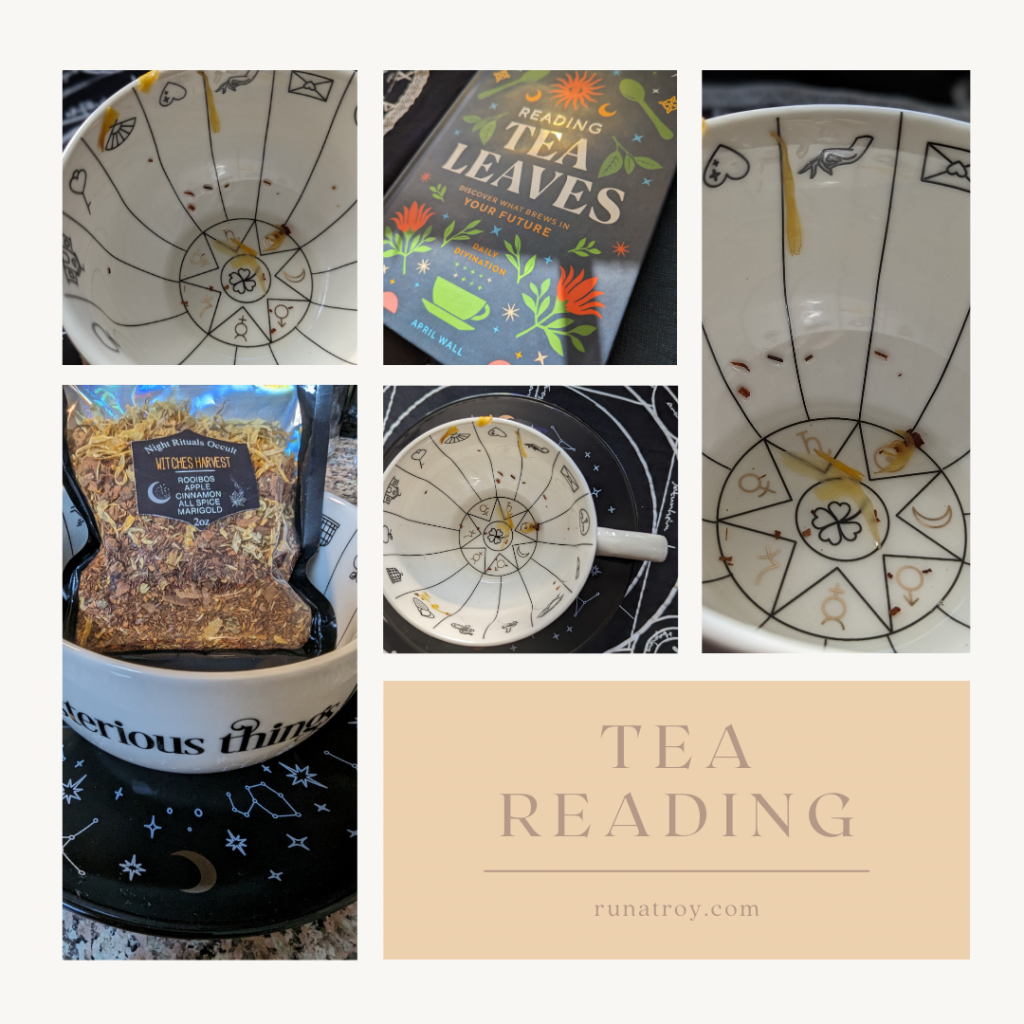 Tea leaf readings, also known as tasseomancy, have been an outer-edge flirtation in my magical practice. It was some divination I could do as a Witch deep in the broom closet and not many even blinked about it. It was one of my first divinations – outside of dream work, before Runes just spoke to me so clearly. But every autumn I seem to want to cozy up with some appropriate tea – today I used Witch's Harvest from Night Rituals, which is just what the New Moon in Scorpio called for – Rooibos, which is all about strength, courage, and wisdom. Apple, for health; cinnamon for abundance; and marigold for healing. It's very flavorful, too. So, as you sip, you connect with the liquid, the tea, as well as your intuition and, if it's in your practice, ancestors (this practice feels very ancestral to me) (insert Spirit, Guides, or Divinity, as well here). 
I can easily recall my grandmother and aunts talking about it – on my father's more heathen side, of course. My mind's eye easily plays little tea-reading sessions inside a tiny kitchen table that could not even begin to seat the amount of people who had to live in that house (1,000 square feet and a partially finished basement and weirdly attached garage for 11 people… what our ancestors went through). Messages like this are why I'm playing around again with my nose down staring at tea-mains inside a cup.
Additionally, a lovely group of my friends (Witches, all, y'all) surprised me on my birthday with this little set (pictured above). They knew I was giddy about giving this set (with book, of course) a home here on the covenstead. The gift came with a tea reading demonstration and general Q&A session with Ruthie Connel. Yes, that Ruthie. Did you know she's a whip with a pendulum? Yes, the set came with one of those, too. My friends spoil me so much. Thank you, 'Chamily!'* 
It's been a lovely magical pull back into a practice I've done for a bit, put down, come back to, put down again… you maybe know the drill. Our practice, our crafts go through cycles just like everything in the Universe. And that's okay. Now I find myself back in love with this witchy tool. I've been practicing pretty much daily since receiving this gift – not always with this mug, mind you, as sometimes I find that I need a more sparse canvas for reading tea leaves. But I love the interaction of this particular set, including the astrologic influences as well as common culture symbols. It reminds me of the Runes' 'interactions on my casting cloth. Speaking of Runes, they show up often in my tea readings, which gives it this level-up feeling to the divination. 
We awoke today with the new moon in Scorpio, and I had to swirl that energy into yet another tea reading. Let's just say it didn't surprise me when the moon symbol showed up. Working with this energy has provided me with a laser light on what and where I need to expend my energy this season.
Over on my Patreon, I examine more of what this new moon in Scorpio tea reading said to me. 
In the meantime, I invite you to take the time this late autumn, and even throughout winter, to dedicate yourself to a magical practice you've been away from, you would love to explore, and get your Witch on! May we dive into the darkest time of year shining lights on things that bring us joy, knowledge, and comfort. All of this or better. So it is. 
*Chamily = chosen family. Yeah, I made it up. All words are made up. (See: my Mercury return a couple of days ago. Hehe. Mercury is in Sagittarius, what do you expect? 😉