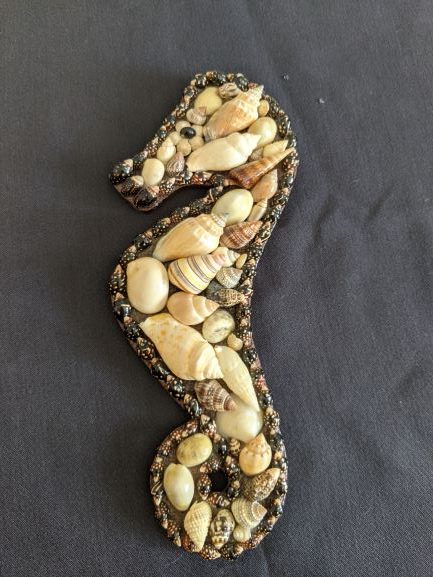 For women's history month, I've been trying hard to get this post done. Instead, I've been busy treasure hunting for things in the Magical Flea Market. I scour yard sales and thrift stores and love me a good estate sale. I am always on the hunt for anything my fellow Witches would find useful or lovely for their own homes, altars, and sacred spaces. I especially love to come across things that are handmade and contain decidedly positive and/or elemental energy like the piece shown above. It was handmade, and carefully curated, and clearly holds some water energy. It's vintage for sure, given the technique and the hardware to hang it. This one is likely from the 60s.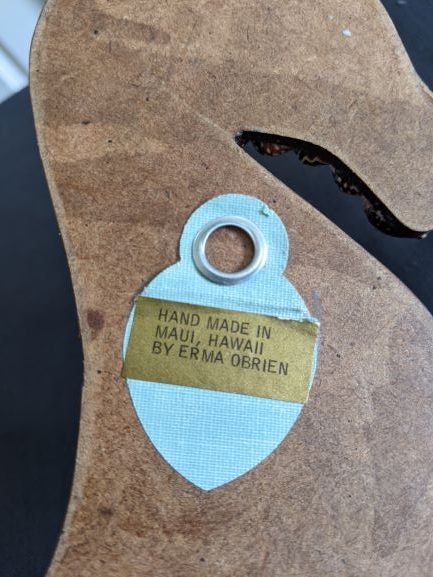 Unfortunately, I couldn't find other information about dear Erma's work; but I do know she is still living in Maui and has achieved uber Crone status. I wonder if she knows her piece of art is up here in Washington State?
Regardless, I share this because this is a prime example of the things I try to put up in the Magical Flea Market. All items are cleansed and charged magically so that they arrive at your door step ready to imbue joy and good energy for your workings or just your pleasure. When something is handmade, featuring an elemental item (shells in this case) I'm immediately drawn to it, imagining the artist creating it. If I find, like this one, that it's made by a woman, it ups my interest as well.
The history of women getting together and crafting both useful and just for the love of art items is long and many of our Pagan siSTARs through the years sat sewing, weaving, molding, and in Erma's case here, designing, something that would grace walls, counters, altars, and the like for years to come. Before the internet or any modern communication technology, these circles of crafting women, were where lessons were learned, information was shared, and feminine bonds were created. It's also, often, where movements for equality and progress were born. There's a reason why the Patriarchy is so afraid of any kind of circle, whether it be a Witch's ritual one, or just a knitting one.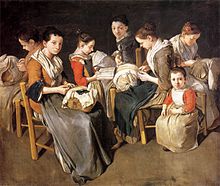 This post is also a reminder that each week — most recently each Thursday — I post an "item of the week" from the Magical Flea Market. It sometimes comes with a discount if you purchase a featured item. So check back either here or in the Etsy shop to find that something with that special vibe that you just can't live without and which some artist lovingly made. Unfortunately, our dear seahorse shown here has already been claimed. But there's lots more to see over at the Magical Flea Market, so don't despair, there's something there for you.
In the meantime, I encourage you to explore where crafting circles exist in your ancestry and your community. There's a good chance you have your own Erma in your family tree or in your own neck of the woods.
Happy Spring,
~Runa