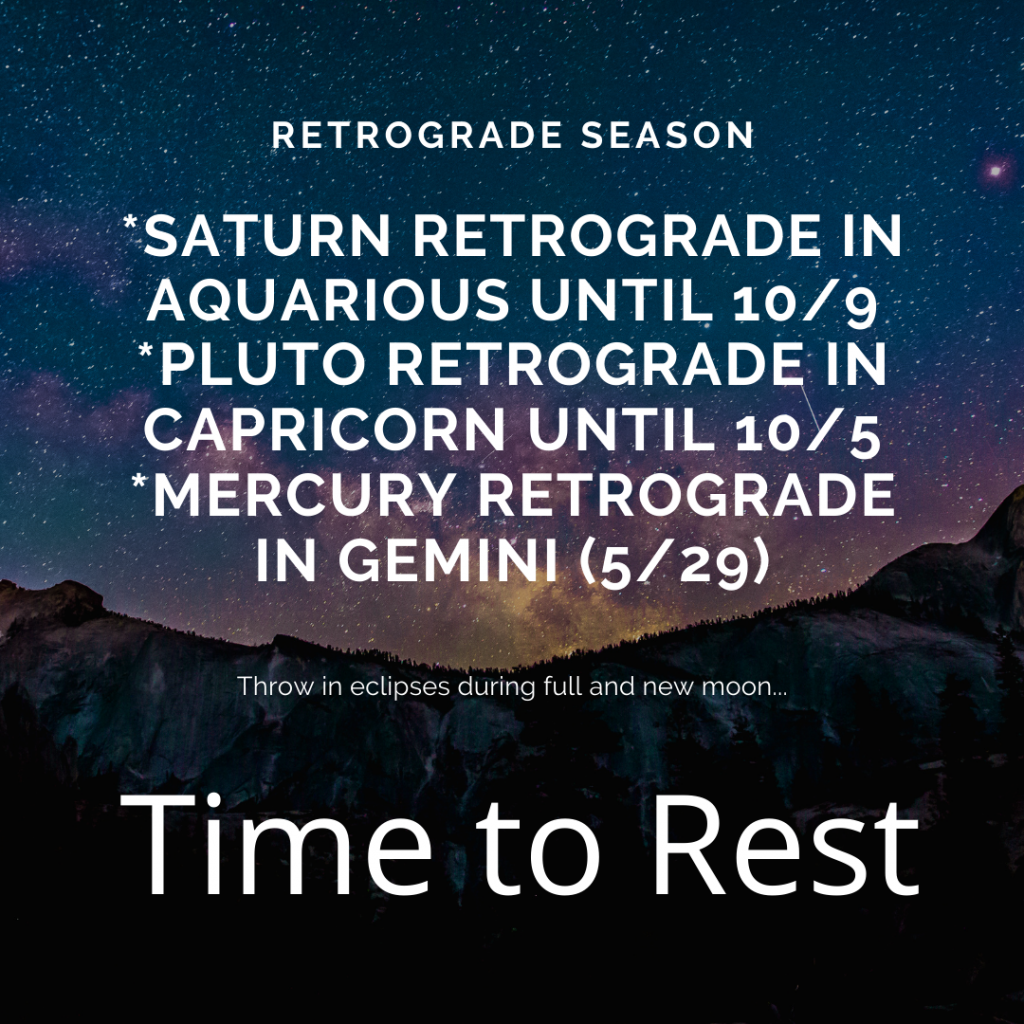 If you follow astrology, have friends in it, or are daily tuned into what the Cosmic Weather is, you've probably heard about this big Saturn retrograde, Pluto retrograde, and the impending Mercury retrograde (summer will bring a Jupiter, Neptune, and Uranus Retrograde, too!) and the energy that it will deposit upon us Earthlings.
I spent the last week reading, divining, and reflecting on exactly what these mean in the midst of Gemini season, typically a season that has me focusing on what my legacy is because Gemini splits my 10th and 11th house. In that reflection, it became clear that Saturn's retrograde was that we are being given time to take the time to reflect and honestly re-everything: re-evaluate, renew, revise, reflect, and REst.
This is the perfect Cosmic Weather to pause and think. There's not much to do — yet. First you get to have a think. For me that deep think was prompted by the realization that hit me whilst working the land and listening to Cory Hawkins and The Feral Strega do their Feast of Saint Rita's Instagram Live. The realization is that I've been moving towards being able to live more simply, quietly, and basically alone. As a deep introvert (another reason I'm a Solitary Witch), you'd think that would be an easy path. Not really. A family nest is central to my Natal Chart throughout my life. And, yes, I have The Viking, gratefully, but I have to be okay with being alone more often, depending only on self. I realized that the family that I chose, what I came here to learn (i.e. Akashic record), is all about living more simply, humbly, and in harmony with the planet. In this goal is the peace I am desperately trying to achieve.
When we moved to Villa Westwyk*, I was in the "seeking peace" mode (my chart at the time was all about slowing down and seeking peace, too) and I set the intention that this property would be a sanctuary, that we would live peacefully here and in cooperation with Mother Gaia. Our goal was/is to add value to our lives and healing ourselves (from decades of trauma), and healing the property. This retrograde season is going to give me so much opportunity to re-invigorate that goal.
For me this Saturn retrograde in Aquarius falls within my 6th and 7th house, which means I need to re-evaluate my work, routines, health and partnerships. And I'm doing that. With this super full moon total lunar eclipse on May 26, it's about what am I going to step away from and step closer and what I need to lean into. I am stepping away from those who cast doubt on my goals or zap my energy. I am stepping closer to my word magic and my book revising and writing. I'm leaning deeper into my health focus. And I'm doubling down on my efforts to deepen my most important relationships.
I am also going back to basics with my Craft practice, especially dream work. I expect that I and all of us are going to have some deeply psychic dreams given the aforementioned Full Flower Blood Moon Total Eclipse in Sagittarius. We all need to be prepared for that. Now many will tell you that doing Magical work on an eclipse is not advised, this is because the energy is so powerful. So if you feel any intuition to not do something — listen to your gut. But for me, dream work renewal — reviving my dream bags, herbs, crystals and the like are going to be done and beefed up. I also have prepped my calendar to handle extra dream interpretations, because I know my regulars and complete strangers (to me) are going to be hit with a wave of dream messages revealing deep truths. The Dream Maker likes to work extra during these energetic times. So be ready.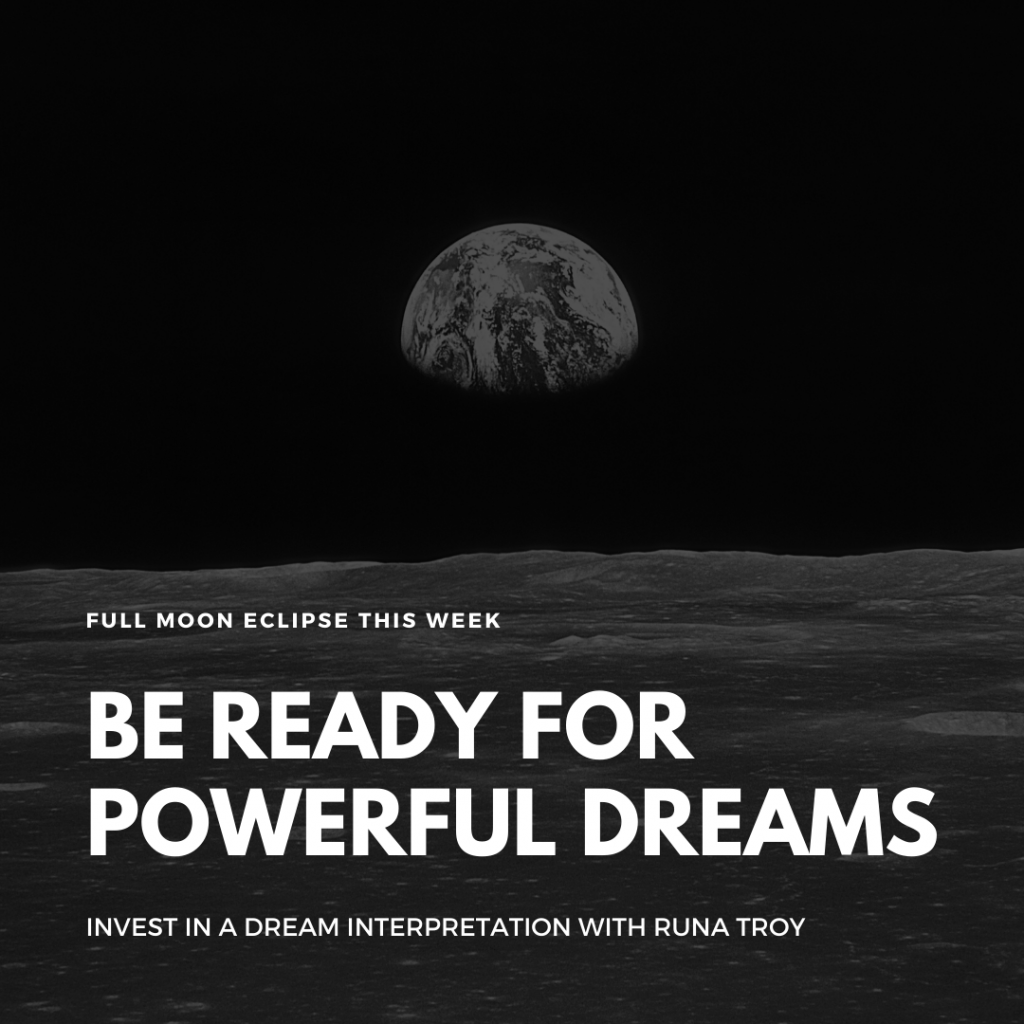 For you your retrograde season reflections and dreams may look different. But the re-evaluation and investments should definitely be done to take advantage of this. But do it slow-mo. No rushing. Listen for the messages in the strangest places. Don't know what questions to ask yourself? Don't just take my word for it, check out what others are sending out to help us all navigate this season. May I suggest that you check out Foxy Astrology's blog post on this. She poses some good questions there for personal reflection and some directions to look at in your personal astrologic chart. You may also find that @risingwoman has the message you need to hear. Or my latest astrology love, Jessica Lanyadoo. And of course, if you've been reading my blog here long enough, you know how much I love The Painted Goddess' Astrologic Lab, where I'm learning astrology on a deeper level.
Remember, move slow and deliberate. Work with intention and mindfulness. We'll get through this and on the other side we will be Retrograde Bad Bwitches! Summer 2021 is going to be very interesting. Are you ready?
Wishing you healing, peace, and transformation.
So it is,
~Runa
*I would like to acknowledge that Villa Westwyk resides on the ancestral homelands of the Coast Salish Peoples, who have lived in the Salish Sea basin, throughout the San Juan Islands and the North Cascades watershed, from time immemorial. I hold the deepest respect and gratitude for our Indigenous neighbors, the Lummi Nation and Nooksack Tribe, for their enduring care and protection of our shared lands and waterways.