Weekly Magical Flea Market Spotlight (2/28)
Unlocking Dreams Tool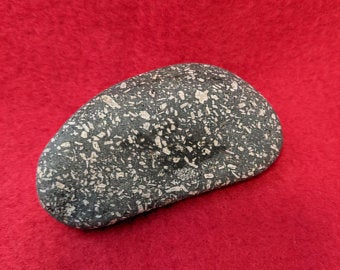 According to long-time Witch and Country Dweller knowledge, this rare Fairy Note or Fairy Writing Rock is found along natural river shorelines. This particular one came from the banks of the Colorado River. A Fairy Note Rock is a type of igneous rock included with crystals of what is usually Feldspar in patterns resembling the script of the land's good neighbors (fairy). These stones are untouched by man. They are naturally river tumbled. They are sometimes called "frogs" because they are found sitting on top of river rocks. Fairy Note rocks are said to offer help to access information whether it be from dreams, ancient sacred texts, Akashic records, or other divination, by providing clarity in translation. It is a stone to support dream work, helping us into the dream state and to direct our dreams. Use on your altar, your tarot table, bedside, or keep on your person for clarity of intuition and universal messaging. This particular one fits in your hand as if it was a natural writing stone; makes for nice comfort as you meditate with it.
This rock was traded for other gifts to the fae under the New Moon in Capricorn, as well as when first obtained under the Full Worm Moon of March 2020. They leave their mystical messages and energies embedded in these unusual rocks. Working with the energy of this stone is very powerful even for the most experienced practitioner. Be sure to ground and center before use.
There's only one of these in my shop, so if you're interested, I suggest you head over to the Magical Flea Market on Etsy today!