Anniversary Giveaway!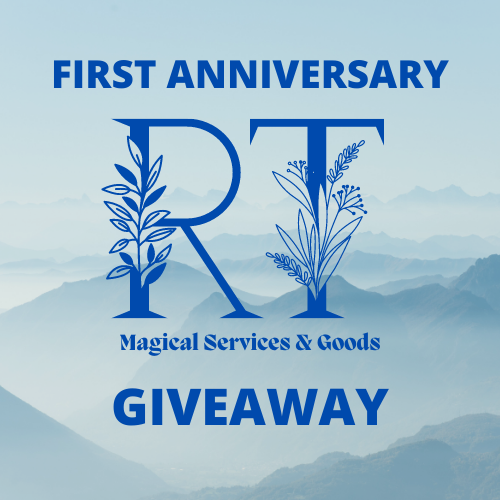 Wow, what a year it's been. So many changes for so many of us. Certainly true for this Crone Witch. Biggest of all was my entry into public Witch life and opening up my RT Magical Services & Goods shop, that allowed me to combine those critical Cs I crave in my life: Creator, Curator, and Connector. And for a whole year I've been working at it, being a shoot-from-the-hip entrepreneur (and learning to spell entrepreneur…LOL).
As I type this, another dream interpretation order came in. Woohoo! Keeping busy means I'm doing my part for my family and home, which makes my Cancer Moon sing. Being a Boss Witch makes my Leo Rising satisfied and keeps its "good ideas" down to a sustainable amount, so my Scorpio Sun can keep doing the shadow work I have put off until my Crone Crowning.
I love doing this work. It combines all my great loves. Something I've been working towards for a very long time in my life. And I'm so grateful. I love having my work's focus all about Magic, whether it's my Magical Services & Goods or working our Permaculture efforts here at Villa Westwyk, or Writing my secret project, I'm feeling so blessed. So it's time to give back. Welcome to the First Anniversary Giveaway.
The First Anniversary Giveaway will offer many chances to enter as detailed below. Grand prize is a "year ahead" Full Elder Futhark Rune Casting, a divination reading that looks at your year ahead. This is a $55 value currently. Second prize is a 3-Rune Reading. This is a divination about one question you're having. Currently a $20 value. 3rd prize is a Dream Interpretation. Currently a $15.55 value. Be advised that all of these items are currently on sale for the anniversary offerings. Prices will rise to regular prices post anniversary sale (July 22).
Here's the Anniversary Giveaway rules:
Follow me on Instagram and get one entry. If you are already a follower, comment by tagging someone with whom you'd love to introduce me.
Tag one person you think might enjoy one of these prizes while sharing the original post on your Instagram Story and get one entry.
Comment with one thing you know about me and my work here or on the Giveaway Announcement Instagram Post (July 2) of the same get one entry (two entries if you answer both here on the website or the Giveaway Announcement post on Instagram, July 2).
Bonus Three Entries: Leave a comment here to tell me how you came to my little cottage on the internet.
The Winner(s) will be announced live on my IG Live, Wednesday, July 14, 10:30 a.m. so don't delay in getting your entries in.
Three prizes will be given. Only one person per prize.
All prizes are digital so the Giveaway is open to all!
Again, the Giveaway runs until July 14. How many entries have you gotten in so far?
Thank you again for supporting my work as a Witch, as a Writer, as a Healer of the Earth. When you support me, you support your own Magical life. What a beautiful partnership that is, yes? Here's to many more anniversaries!
Blessed Be,
~Runa Troy
Creator, Curator, Connector