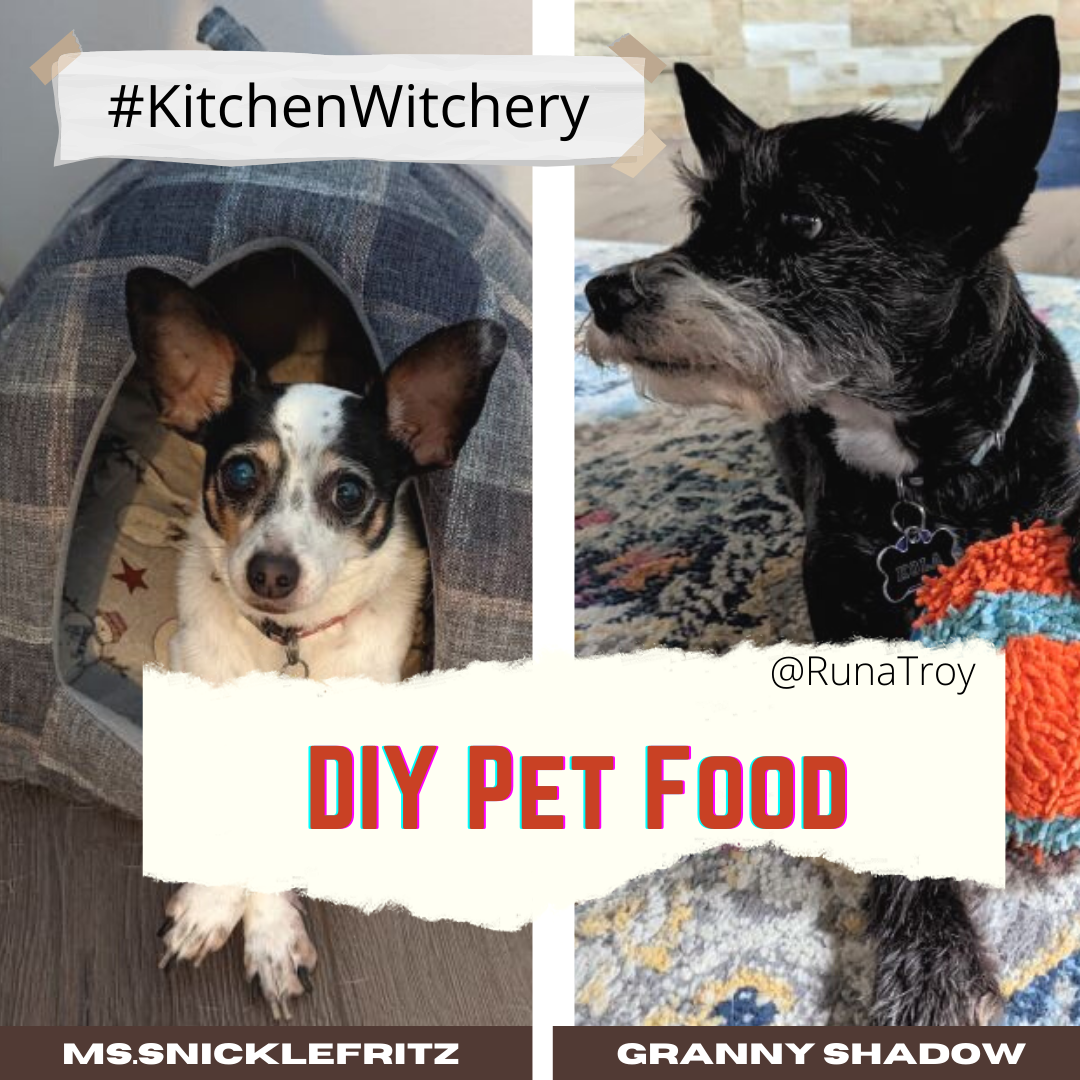 In honor of National Pet Rescue Day – DIY Magic Pet Food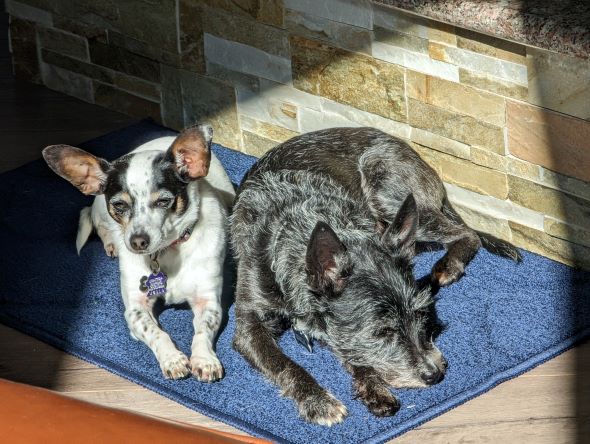 May 20 is National Pet Rescue Day. My current 'Puppers,' as The Viking and I call them, are rescues. I've always preferred to adopt rescues than purchase my pet because I find they are just so loyal and loving. The added benefit that an animal in need is being cared for is a bonus. I'm not about to get into puppy mills and all that nonsense, or the fact that there are likely just as many feral cats in your neighborhood as there are people. Rescues are a kinder way for the animals and our planet. This Witch is all about kinder to animals and the planet.
Enter Kitchen Witchery and Permaculture to solve a problem. In Permaculture, you Design from Patterns to Details and the pattern was non sustainable food for my familiars. The details of what would make it sustainable begin to emerge.
These Witch's Familiars, our canine yin and yang, are getting up there in age and now have special dietary requirements. Currently they both have medicated kibble. On top of the kibble we put a wet food, because they've made it clear the kibble alone is not very satisfying. Kind of how we have to put cinnamon and fruit on our oatmeal to actually eat it. Also much of the nonmedicated kibble is mostly water and does not have the protein that most canines need.
After finding that most of the softer foods out there are so full of things that my puppers do not need, are horribly expensive, and produce so much waste in its packaging, I needed something more economical, sustainable, and that the furkids would enjoy. About this time last year I started experimenting with making my own canned dog food. The idea to even explore that came to me because I often will make a big batch of stew or soup and I either need to preserve the leftovers, or was finding at least one pint would be used to augment Ms. Snicklefritz and Granny Shadow's dinner. Much like how I approach the food that The Viking and I consume, I really wanted to know what my dogs were eating. I recognized that the best way to do that was to make it myself. The additional opportunity to make the food a ritual and infuse it with Magic, well, I couldn't resist that.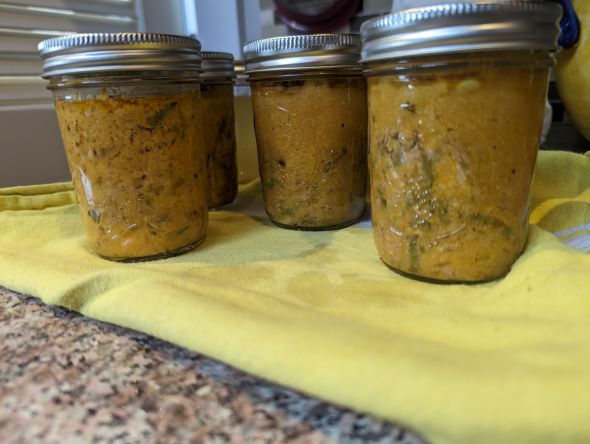 The intentions I put into each batch are all about protection, health, and, of course, love. I'm sharing this, as mentioned in the title, in honor of National Pet Rescue Day and in hopes that it might inspire you to look a little closer into your own food as well as that of your own familiar. As a Permie Witch, doing this follows the permaculture principle of Producing No Waste. Every part of our resources gets used. It is to a lesser degree aligning with two other of the permaculture principles: Obtain A Yield, and Creatively Use & Respond to Change. A weaker argument could be made for the tenet of Use & Value Renewables. As we begin the growing, hatching, and birthing season here at Villa Westwyk, we eat with the seasons here as much as possible. It's a slow change, which also is within the permaculture lifestyle: Choose Small, Slow Solutions. Needless to say, we're all in here at the covenstead with this "chore," which is really a ritual and spell. This is about the moment when my youngest, Dragon Son, would say, "you feel me?"
I basically take a left over chicken carcass, stew bone, or even the remnants of a whole fish, bring it to a boil, then simmer several hours. You just need enough water to cover the carcass…don't go crazy unless you plan to make soup or such soon, or can the broth (that's what I do). I make broth in a pasta maker, that way the carcass and the meat still on it is easily drained, cooled, and picked through. Sometimes I will refrigerate the broth overnight before continuing with the pet food batch, so I can skim the fat off and use an appropriate proportion with it to cook the veggies in. But you could use oil, butter, bacon drippings, whatever you have on hand.
This is where my protein to make the pet food comes in, so you could buy store bought, but the bone broth provides so many nutrients and is a superbly economical way to acquire pet food. If you want to go full-on Midgardening Witchery, you'll can the extra broth for the human pets in your life. 😉 My 9 half-pint batches start normally with about 1 1/2 cups to 2 cups of protein. y last batch the protein portion was about 2 cups; I let the protein amount drive the rest of the recipe. If you homeschool, this is a great exercise in fractions and parts of the whole. 😉
I cook up the bite-size veggies with a little bit of fat, add the meat plucked from the bones, make a roux, add the broth, let it cook down a bit and can it up. Alternatively, you may freeze it at this point, or if you can use your batch up within a week's time, you can keep it in the refrigerator.
If you know how to make biscuits and gravy, or any kind of a roux, this recipe will likely be easy for you. The below recipe makes about 9 half-pint mason jars. If you want to make pint or quart, do the appropriate math. 😉
Equipment:
Broth pot (stew pot with a colander in it, like a pasta cooker)
Cauldron (Dutch oven pot)
Pressure Canner with Jars/Rings/Lids or Freezer containers
Ingredients:
1 part Protein (leftover chicken carcass, ham bone, lamb leg bone, etc.)
1/4 part Fat (bacon drippings, schmaltz)
1 part Veggies (cats and dogs need their veggies, too)
1 part Something to help meld it together (sweet potato, beans, potato, brown rice, etc.)
~ 2 tablespoons to 1/4 cup Flour
~ 2 cups Broth (double if making quart batches)
Salt (optional)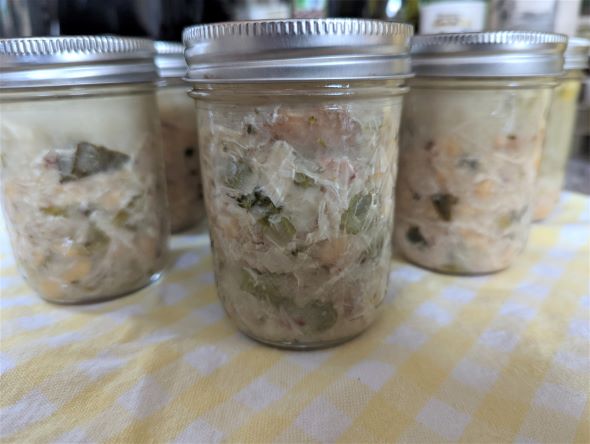 Instructions:
Make your broth. Put soup bones, poultry carcass, etc. in a pot covered with water. You're only going to need about 2 cups tops to make a batch of pet food (I do 7-9 half pints at a time). But make as much as you like. If what you're making broth with was unseasoned (not often on my covenstead) feel free to add a pinch or two of salt. Salt is good for your animals, too. But just like us, too much is not good either to taste or for their bodies.
Once broth is made, remove the bones and separate any meat/skin/giblets out to include in the pet food. As you do this, put the intention of keeping the sick away from your beloved familiars. You are separating the good stuff versus the discard. Set the meat aside and discard the bones. If you're going to can your pet food, this is where you'll need to sanitize your jars, lids, and rings and inspect your pressure canner.
Into your cauldron, add a bit of fat (butter, schmaltz, bacon drippings, oil) and heat on medium heat. Sauté the chopped up vegetables until tender. I put the veggies in saying, "Here's to my familiar's health." Simple, but effective. Each time I stir the veggies I say it again, "Here's to my familiar's health."
Once the veggies are tender, add back in the meat you plucked from the bone(s), and sauté with the veggies until warmed (about one to two minutes). If you have things like potatoes or beans in your batch, give them a squish with your cooking spoon to help thicken things up in the next step. Mashing the ingredients in is optional, but my somewhat toothless wonders love it this way (just like aging people, pets sometimes lose teeth as they age). I do a simple stir three times clockwise (aka sunwise), putting a whole lotta love for these furkids into the cauldron's contents.
Depending on how full your pot is, you're going to need between 2 tablespoons to 1/4 cup of flour. You are making a roux with the veggies and meat. Sprinkle the flour on the protein and veggies envisioning the flour as extra protection and mix it all in and let it cook for about two minutes.
Add in your broth, and simmer until reduced somewhat. You know what wet pet food consistency looks like. You're looking to get the same. Depending on the size of your batch, this can take five to 20 minutes. My 9 half-pint-jar-batch takes about seven minutes. If you're filling a canner or freezing quart size containers, then it will go closer to 20 minutes.
At this point you can package up your food and freeze, but if you're going to pressure can, I always use half-pint (aka jelly) jars and can get up to 9 jars in my canner. Follow the manufacturers instructions for your personal pressure canner. Can the pet food at 11 pounds pressure for 15 minutes for half pint; 25 minutes for pint; 35 minutes for quart (for you folx with more pets or large pets, quart size might work best).
Label your food with the ingredients & date and watch your pets gobble it up. Honestly, this is food that humans could eat, too. So, if you don't label it, no one will be harmed. LOL. Regardless, you know whether man or beast, they are going to dig it. If I'm feeling particularly Witchy, I might put an appropriate sigil on the jar.
When there's only one jar left, be sure to make another batch. I also set aside one jar to always have in the pantry to bring abundance for my familiars: food, water, shelter, and love. If you do this "cupboard Magic" be sure to rotate the abundance anchor (your extra jar) so that the food doesn't go bad. That's some negative energy there. These will last in your cupboard easily for up to six months.
I hope that this helps you amp up your self sufficiency and self reliance, as well as brings a little Magic for your familiars/pets. Also, please join me in the Adopt Don't Shop philosophy. And please give to your favorite animal advocate nonprofit. The Viking and I support the ASPCA regularly and have been known to gift animal rescue donations in honor of our loved ones.
Please let me know if you have any questions in the comments. May this recipe bless you and your pets. Now go snuggle your familiar. 😉