Personal Guiding Principles
A journey to what I hold dear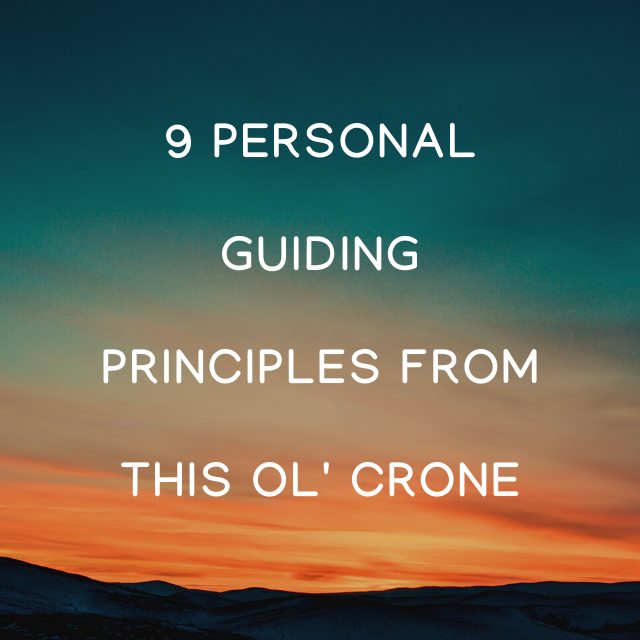 Right around my solar return in November, a question was posed to me — and honestly, I don't recall where it came from — I mean, obviously, Source. But what vehicle for which the message was delivered, I'm unsure of, and does it really matter? Not really, except to understand that we can get messages from Source or our Spirit Guides in just about any manner. We need to allow ourselves to be open to receive it.
This particular message was regarding my Personal Guiding Principles, my own witch's creed if you will. It was then it occurred to me that I may not necessarily be able to spout out something succinct. But in the complicated world we live in, can such things be succinct? Perhaps. Regardless, I had my mission and set out over the last months to detail exactly what they are.
I set about by meditating, first. I imagine if you had been a dragonfly on the window sill of my studio I would have looked quite the stereotypical new-age westerner. Lotus position. Lights dimmed. Candles lit. Incense wafting. But, hey, it worked. I saw words flash into my mind's eye. I saw little vignettes when in my life I had exhibited the words in my head. It was almost like a beat as I breathed in and out and focused solely on the things I hold dear.
Following meditation I did some automatic writing. This is when I just let things flow out from my hand to the pen and paper (or keyboard, if appropriate). What followed was a bit of a mess, which it normally is and requires much interpretation and revision. After the follow-on editing, I produced my personal guiding principles. They are not in any kind of order, just as they came out of my head. All nine are important regardless of order. I do find it interesting that there are 9, as that is an important number to me, but that exploration is for another day. However, what I did notice is that there's a bit of a mnemonic to it. I call it my WiTCH D-REPS. I'm sure you'll be able to figure out why.
My personal guiding principles:
Worth: Know your worth; understand you are a survivor. Prioritize your well being. You are worthy.
Truth: Is it true? Truth in speaking; truth in writing; truth in expression; what does your gut say? Do not dismiss your truth meter, your gut.
Courage: To do the hard work, even when it pushes me physically, mentally, emotionally (out of my comfort zone). Kill your fear, witch.
Honor: To do the honorable thing even when no one is looking; to honor the planet and its creatures.
Discipline: Take small steps each day; even if you don't finish, showing up is half the battle. One step forward every day (even if it's just taking a shower); this includes practicing patience.
Respect: Self, Others, Earth
Energy: It is in us; all around us; we must be cognizant of how it is connected and used.
Perseverance: Never Give Up!
Self Reliance: Take care of yourself as much as possible and as independently as possible so you are able to help others with ease.
As the new calendar year unfolded, it may have seemed very basic to be examining such things, but honestly, in my more than half century alive, I haven't sat down and said, here's what guides my life. So, as our nation faces great threat from right inside its own borders, and a deadly virus rages without containment, it seemed as good a time as any. I mean, #Ronalife, right?
Now I imagine this will be what is called a "living document" and I'll add and adjust as I focus even more on it. But these words basically could be tattooed on me and they wouldn't change. Therefore, at present, I feel like these are a solid foundation to move forward for the next half century of my life.
Do you have a personal creed or guiding principles? Have you attempted to write or author your own? I'd love to know how you approach this if you call yourself a witch, pagan, or a mystic.
In truth,
~Runa