Weekly Magical Flea Market Spotlight: 4-1-2021
Are you ready for the New Moon?
The next New Moon is April 11th in Aries, during Aries. It's a powerful time for setting intentions and laying the groundwork for manifesting your dreams. The Magical Flea Market has put together a New Moon Manifestation Ritual Kit featuring Seeds of Abundance Spell for you.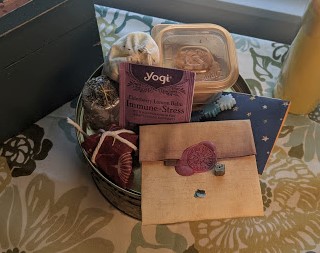 Be ready for that upcoming powerful New Moon with this carefully curated Manifestation Ritual Kit featuring Seeds of Abundance Spell. Don't worry about finding this or that for your next New Moon — your Magical Flea Market has gathered it all right here, including detailed instructions and all the tools, plus a dose of old-crone magic, to help you plant seeds of prosperity in your life. The kit includes anointed candle, crystal, a small homemade notebook and pencil, a tub tea "bomb," a seed bomb of abundance, and ritual cakes (vegan/gluten free) and positive energy drink, detailed instructions on how to do the ritual and its spells, all enclosed in a vintage tin that doubles as a burn box during the ritual.
You are a magical being, it's time to start focusing that energy on being your best and bringing the highest good into your life. This New Moon Kit can get you started on your path. Great for the baby witch or busy maiden/mother Witch!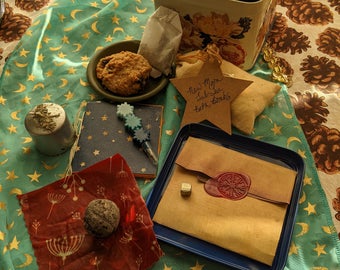 If you'd like this kit, visit The Magical Flea Market now.
Have a Magical Day!
~Runa