Pick A Rune – 4-7-2021
Your Weekly Rune Casting from Runa Troy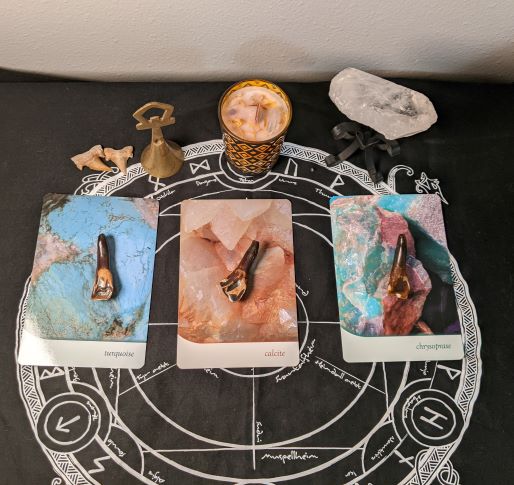 These are intended to find you when you need the message. Instead of actual crystals this week, I was called to use my Crystal Oracle Deck — this Crone doesn't just use Runes for divination and messages from the Universe. And we're using everyone's favorite Bison-Teeth Rune set. Look at the photo. Where does your eye go? Close your eyes or look away and where does your heart say to go? Left? Middle? Right? Turquoise, Calcite, or Chrysoprase? Leave a comment below with which one you choose, please. Thank you again for spending a little bit of time with me on Witch Wednesday! Reveal is below…
*************
Reveal Below
*************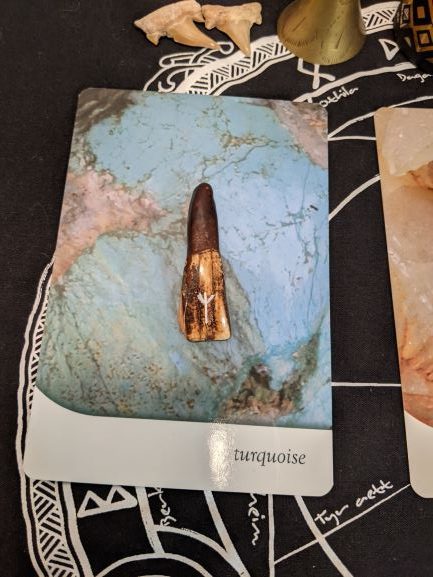 The Rune pulled here is Algiz, the Elk Spirit, full of protection. Given that it's paired with Turquoise protection is a huge focus for this message. Where is your refuge and sanctuary? Have you ignored making sure you have that space? With our own sacred spaces, we can channel our energy and stand in our power and commune with the Divine. Get yours squared away and nest in its healing protection.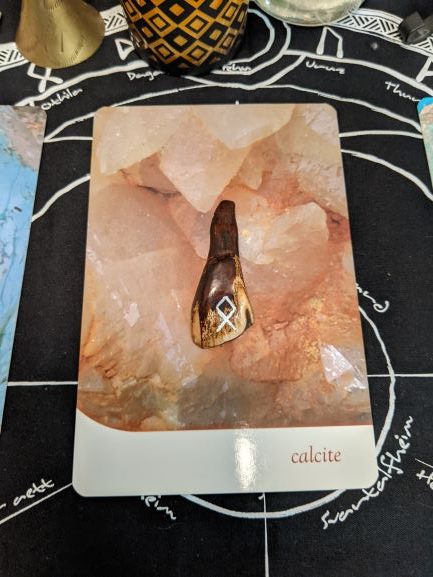 Othalla is the Rune of Ancestral Property. The message today surrounds around fundamental values, yours, your ancestors, and your descendants. Are you living your values? Your beliefs? If not, the message is to live what you believe, talking about them is not enough. You will not be remembered for the things you have, but how you treat the creatures of the world. What positive deeds can you do today?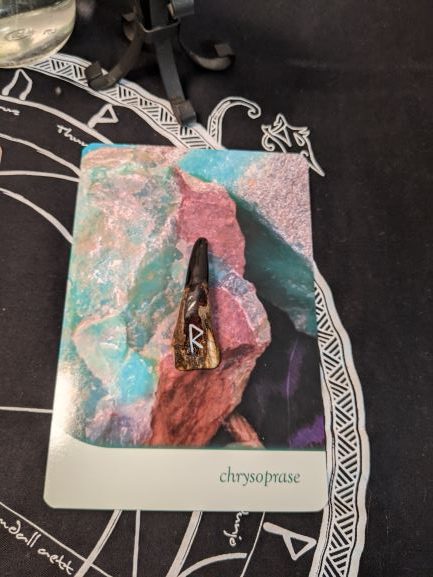 Raidho is riding its wagon on Chrysoprase right now, which means that your progression towards love, truth, hope, and wisdom is moving forward. Remember you decide your path, no one else. Also, you won't get to your destination unless you have the right frame of mind, so ground, center, and root and move forward again.
Thanks again for allowing me to divine for you again this week. If you appreciate the work I do, please let me know in the comments below.
Have a great week,
~Runa